Porto is a city full of surprises, and we love it! The narrow streets with colorful houses are breathtaking. There's also art in the galleries that will surprise you; there are gardens and museums for your enjoyment; restaurants serving traditional or international food to enjoy as well. Porto has a little bit of everything for everyone, during any time of the year.
This is why we prepared this list of things to do in Porto, with the best recommendations of expats who live in the city like locals. So, if your schedule allows, make sure not to miss any of these 12 incredible things when visiting this fantastic city.
Porto: What to Do? The Best 12 Things to Do in the City
Want a list of essential things to see and experience in Porto? Then this is the right one for you. We've gathered a good mix of free and chill activities, visits to museums and some food and drinks recommendations. You will love it!
1. Go for a Walk at Ribeira
The oldest part of the city, Ribeira, is beautiful with its winding streets and picturesque landscape. It has a great selection of restaurants, bars, shops as well as "Rabelo" boats that pass over the river that make the perfect picture!
Don't forget to charge your camera battery because it's almost impossible not to want to take pictures. By the way, you can go down through one of the several stairs that lead you through some cute traditional houses. In the end, you can cross over the Luis I bridge and see Porto from the other side of the river. On the other side, in Vila Nova de Gaia, you'll also find good restaurants and fabulous views – especially at sunset.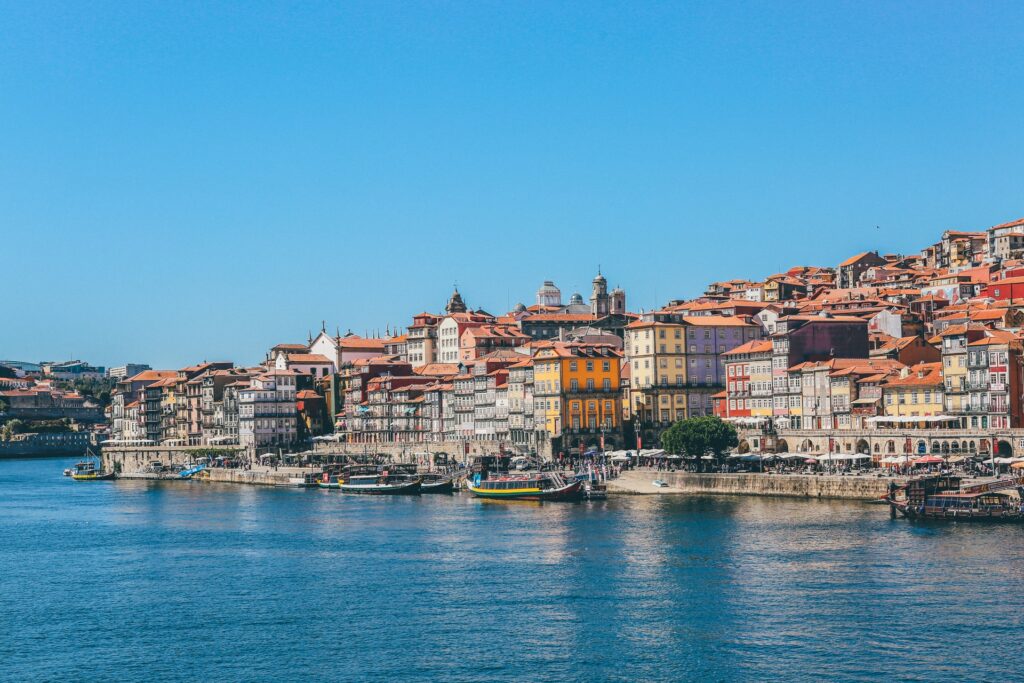 2. Visit Porto's Iconic Bridges
Porto's Bridges are famous for their magnificence, being a tourist attraction by themselves. So, while you stroll at Ribeira or on the Baixa (city center), make sure you visit these bridges. They are excellent – and look great in the pictures. The most famous ones are the Ponte Maria Pia (Maria Pia bridge) and the Ponte Luis I (Luis I bridge).
Nowadays, the Maria Pia Bridge, which is the first great work of Gustavo Eiffel, is deactivated, so you can only see it. However, you can still cross the Luis I bridge, either on the top – where the metro passes by – or on the bottom, where cars drive back and forth from Vila Nova de Gaia to Porto.
3. Explore the Jardins do Palácio de Cristal
The Jardins do Palácio de Cristal – Crystal Palace Gardens – have been a popular destination for visitors since the 19th century, designed by German landscape architect Émille David. Nowadays, you can stroll around these eight hectares of gardens and watch the beautiful and colorful peacocks who live there. The spot offers stunning views of the Douro River and city from its many viewpoints.
Strolling through these gardens is an iconic activity in Porto that everyone should experience once here. However, don't expect to find a Crystal Palace like the one from Madrid. The one that used to be in those gardens was demolished in 1951 to give place to a not so beautiful – let's be honest, an ugly – sports arena.
4. Visit the Fundação Serralves
The Fundação Serralves is a great place to visit. It hosts both the Serralves Museum and the Serralves Park. The Contemporary art museum and the beautiful gardens are a great bet for a whole afternoon of fun.
Serralves Park is a national institution with valuable historical and cultural heritage. The park boasts of an Art Deco building as well as the Museum designed by Alvaro Siza Vieira, who was awarded Pritzker Architecture Prize in 1992.
Serralves is a great place to visit at any time of year, as there are many permanent exhibitions as well as great traveling exhibitions.
5. Eat a Francesinha
Francesinha is a super traditional dish in Porto, and you will find it basically anywhere. However, if you're going to try this sandwich made of sausage, fresh sausage, ham, and beef steak with melted cheese usually served alongside french fries and covered in beer sauce made up of tomato ketchup mixed with whisky, you should pick the right place to do so.
Here's our top picks: the Francesinha Café, which we've been to multiple times due to the high quality of ingredients used as well as our trust in Chef Fernando and friendliness of D. Lurdes; the intimate restaurant, Yuko, which is another excellent choice because not only does it have a baked francesinha that has one of the best taste in town but also an amazing sangria, which is genuinely one of the best; and Brasão, which is owned by the same restaurant owners as Yuko, and has an excellent menu with diverse options ranging from fabulous starters to vegetarian dishes. The oven francesinha is one of their most popular items on the cart!
6. Go Up the Clérigos Tower
The Torre dos Clérigos – ou Clérigos Tower – is one of the city's most famous landmarks – and no visit to Porto is complete without a visit to it.
Architect Nicolau Nasoni presented the project for this bell tower in 1753, and construction began after that year passed. The inauguration took place nine years later in 1863 with an iron cross placed at the top and a São Paulo image inside a niche above the door. This baroque-style monument stands out because its design uses uneven roads rather than flat land – impressive work from another artist!
It takes 225 steps up to get to the top, but once you're there, you can see breathtaking views across the town so that all your efforts are worth it.
7. Get Something to Eat at Nola Kitchen
I know it's not traditional Portuguese food, but Nola's food is fantastic! It's the best restaurant we've been to in Porto. They mix unexpected ingredients that totally make sense in the finished dish. Plus, the food there is super healthy, and they are vegan friendly, which means basically anyone will find something great to eat there. They serve breakfast food all day long, but the restaurant also has amazing options for those who want to have lunch or dinner.
Apart from their traditional items, their menu changes along the seasons. So, whenever you come to Porto, there will be something new and unique for you to try. It's the go-to place if you're looking for good food in Porto.
8. Visit the São Bento Station
The estação São Bento is famous for its 20 thousand Portuguese tiles that portray the story of transportation and life in Portugal. The Station was inaugurated in 1916. It was designed by the influential late 19th and early 20th-century Portuguese architect Marques da Silva.
The Station has a café-restaurant with a wide selection of coffee and food where you can sit to enjoy the space's intricate architecture.
9. Explore the Palácio da Bolsa
The Palácio da Bolsa – or Stock Exchange Palace – in Porto, classified as a World Heritage site by UNESCO, has received many distinguished visitors during the years, including monarchs and presidents. It was built on top of the ruins of a former monastery and is an iconic building for this city.
The palace is home to works by great Portuguese artists, such as Soares dos Reis, Teixeira Lopes, Veloso Salgado or António Ramalho. The most prominent of these are in the Arab Room, which would take 18 years to complete and features gold drawings on a black background covering every surface, including windowsills.
10. Visit the Catedral da Sé
The Sé Cathedral – or Catedral da Sé, in Portuguese – is the most important religious building in Porto, and it's located near the city walls. It has a fortress-like appearance with battlements on its exterior as if to defend itself from invaders. The Sé Cathedral was built overlooking the city of Porto on a hilltop in the highest part of the city. There, you'll find great views from the city, especially if you walk a little bit down to check out the Miradouro da Rua das Aldas.
11. Drink Some Port Wine
The Douro Valley is home to Port production that dates back to the 17th century. It's also protected as the only authentic producer of this kind of wine in all of Portugal and an ideal thing to do in Porto for anyone interested in exploring its history and culture through a tasting experience with one or more producers like Quinta do Vallado or Taylor's.
The best way to discover these landmarks is by crossing over to Vila Nova de Gaia – via Dom Luis I Bridge – which will lead you straight into some prime port wine cellars such as Sandeman, Graham's, Ramos Pinto Winery & Shop, and others.
12. Get Your Souvenir – or Whatever You Want at Suuuper
The shop is not typically a souvenir shop; however, I assure you that you will find original and beautiful works from several Portuguese and international artists at an affordable price. The store sells illustrations, photos, pottery, tote bags, and much more, all provided by local artists. It's the go-to place to grab some cool and original works to take home with you.