Porto is one of the most beautiful European cities. It's also home to a flourishing expat community. However, the city still feels – most of the time – as unexplored territory for foreigners living here. While you can see several tourists flooding its narrow sidewalks, it might be challenging to find your group of people or find your way through the Portuguese bureaucracy – especially if you're coming from a country outside the EU.
This is why we decided to create this blog post – since we're experiencing what it is like to live in Porto as expats – to go over everything you need to know about life as an expat in Porto – from what it's like living here to how easy it is to find friends and a job in the city.
We'll also cover topics such as housing options for living and how much it costs living here, your options for healthcare, and more. So if you want to know more about it all, keep reading!
Moving to Porto as an Expat
We've moved to Porto after more than 5 years of traveling the world as digital nomads, right in the middle of the pandemic, which didn't make things easy.
However, one of the best things about Porto is that people are super friendly and open, so it was also easy to get around the bureaucracy of settling in.
Moving to Portugal as an expat might be tricky, especially if you're not an EU citizen. Depending on your nationality, you might need to have a visa or get a residency permit.
In my case, living in Portugal as a Brazilian is fairly straightforward. I just had to register at the Portuguese tax office to get my NIF (the Portuguese fiscal number), open a bank account, register my business and apply for a residency permit.
To make my life easier, I found an accountant right away and got him to do everything for me. It didn't cost me much, and he does all my taxes and helps me with any documentation I need.
Most foreigners end up opting to get legal help since we don't know the laws really well. Getting an accountant or lawyer can help speed up your residency or citizenship process and save lots of money in taxes.
So, if you're thinking about moving to Portugal, we'd recommend you to get assistance, especially if you're an independent worker or want to open your business here.
If you talk to locals or ask around on an Expats Facebook group, you'll find recommendations of professionals who speak good English and can help you. Mine was recommended by an Uber driver and costs only €20/month. But you can also find more experienced accounting firms that are used to assist larger businesses that charge around €200/month.
Finding a House
Finding a house or apartment in Porto is easy. Now, finding a suitable home or an apartment in Porto is really hard. Most places in the city are old or have been renewed on the inside but still are not well insulated. You'll often find poor construction – which allows you to hear your neighbor's TV – thin windows and cold and humid houses.
The truth is that most Portuguese houses are not prepared for the rainy season or the cold. They rarely have heating – meaning you have to buy an electric heater for winter. So, you better watch out for the electricity classification when looking for a place to live. As several constructions are old, the electric certification is often E or D, which means heating might cost you a lot.
So, when looking for a house, the best tip we can give is to cautiously look at the pictures – even if the place looks new – and check if they have good windows. It might save you a lot of money and stress, especially if you live in the midst of the city.
The Housing Market: How Hard It Is to Rent?
The housing market in Porto is not so difficult. Finding an apartment is not as challenging as finding an apartment in Berlin, for instance, where tons of people show up for an apartment viewing.
It's usually pretty easy and chill, and as long as you meet the tenant's requirements and have enough money to pay for the "caução" – or guarantee – you should be fine.
Where to Look for Houses?
In any case, when moving abroad, you might find it challenging to find housing or find the best ways and the best websites to do so. If you have that problem, here's a list of the best places to find houses online:
Airbnb
If you're looking for a temporary living arrangement, you might find Airbnb to be perfect for you. It also attracts many people looking for a place in the city – maybe not as their permanent residence – and want something cheaper than what hotels offer.
The downside is that renting can get quite expensive if your stay is no longer than one month. However, you might always message the owner asking to negotiate the price for longer stays.
Idealista
This is a website that you can use to search for houses, apartments, studios, and other types of rentals. Idealista is popular among the Portuguese. You can find listings uploaded by the homeowners themselves, their legal representatives, and offers from real estate agencies in Portugal.
You just have to choose the city you want to live in (or a nearby location) and start exploring what's out there. There are hundreds of options available, which is why Idealista has become one of the most popular websites when it comes to looking for apartments or houses in Portugal.
You can save your favorite listings so that you don't lose track of them. Most of the offers are for a long lease (minimum one year), but some allow living just for a few months if needed.
Uniplaces
Uniplaces is another good option if you are looking for a place to live in Porto. The website is very easy to navigate, and there are plenty of options available at all times, which makes it a great place when searching for living accommodations as an expat.
It's also perfect for those on a tight budget since it offers people the option to rent only a room in an apartment.
The website is also available for those living in Lisbon, Coimbra, and Braga, so it's a great option to consider if you are looking for accommodations in Portugal as a whole.
If you choose to get an apartment or room with Uniplaces, you can use our discount code UNIMKRY1W to 10% off on their service fee.
Remax
Remax is another option to look for housing in Porto. The real estate agency is famous worldwide, and the realtors are really professional and easy to deal with. They are used to negotiate with foreigners, so it won't be challenging to get you an apartment or house with them.
The options on Remax are usually more expensive than at Uniplaces or Idealista but still worth taking a look at.
Facebook Groups
You can find excellent deals on expats' Facebook groups. Usually, there are foreigners wanting to rent their apartments for a while or even locals who advertise their apartments there. You can access good options by joining these groups and sharing that you're looking for a place to live.
The downside is that these groups have been created recently, and there's no guarantee of the quality of the apartment or house when you see it for real. And, since you're usually renting directly with the owner or someone random you don't know, you should be cautious. As a foreigner, it might be easy to get scammed, so keep your eyes open and make sure you get to visit the place before you commit.
Finding a Job
The living expenses in Porto are a bit lower than the average European living standards, but the job market is slightly harder to crack for expats. However, many opportunities are arising lately, especially with several startups moving to Portugal because of the tax benefits they get.
Whether you come to the city without a job or want to find a job before you come to the city, there are some options you can explore.
If you want to come to Porto and look for a full or part-time position, it's recommended that you set up an account in Indeed or Linkedin and apply directly from there. There are also several recruitment agencies with good reviews online where you can also look for opportunities.
But, keep in mind that Porto doesn't offer as many job opportunities as Lisbon yet. The economy is mainly driven by the tourism industry, so if you're looking for work in any other field, keep in mind it can take some time until you find one that suits your needs.
Cost of Living in Porto
The cost of living in Porto is significantly lower than in Lisbon, especially if you compare rent prices. However, this scenario is changing while the city grows and more expats come to live in the city.
Rent and Food
Here, you can expect to pay €600-€800/month on average for rent for a one-bedroom apartment (T1) in the city center – rent prices are significantly lower than in Lisbon. Depending on your lifestyle, you should spend about €30 to €70 on groceries every week, and a meal will cost you something from €7 to €25 in an inexpensive or mid-range restaurant respectively.
Transportation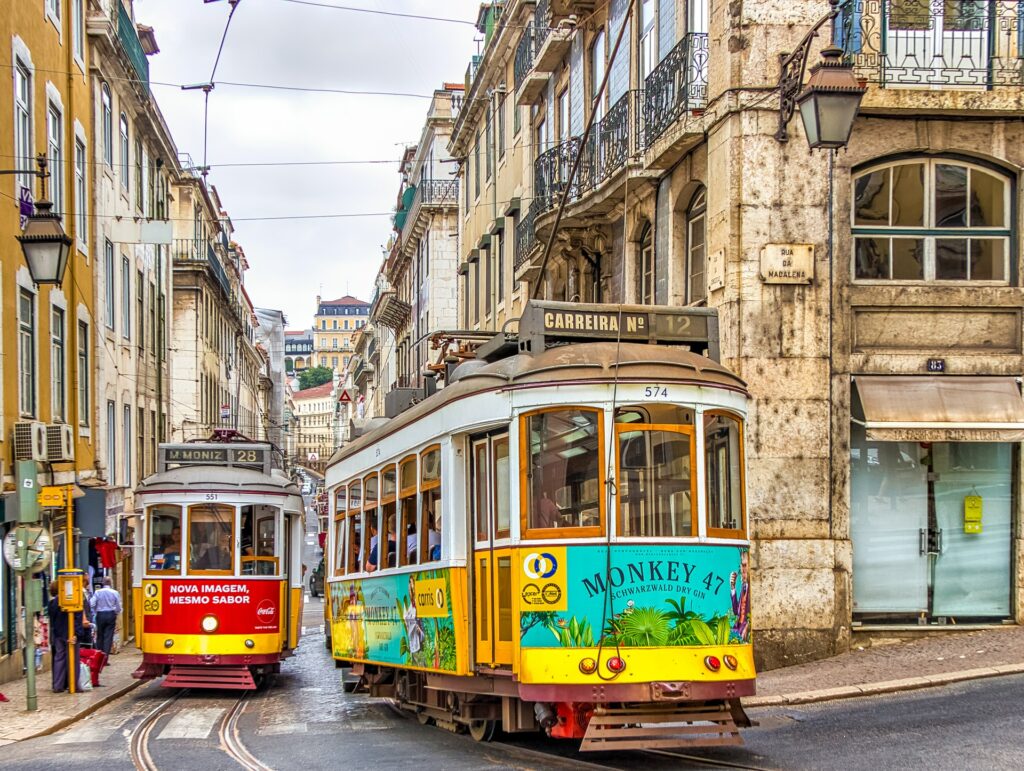 Ride-sharing services such as Uber and Bolt (very popular here) are mostly cheap. If you're riding with someone else, it might even be more affordable than taking the subway. The city isn't so large, and most things are concentrated in the city center, so you can basically walk anywhere.
A one-way bus or metro ticket usually costs €1.20, but it will depend on where you're going. And the good part about public transportation here is that you basically don't need a car. The subway – which is mostly not underground – can easily take you to the beach and airport in just a few minutes. Meanwhile, the monthly pass for the metropolitan area of Porto costs €40.
However, if you plan to have a car, you can expect to pay around €30 per month for a parking space.
Leisure
You can also find fitness clubs, gyms, and yoga studios that are mostly inexpensive for an expat. You can do yoga with an English speaker for €35 once per week, or €75 three times a week, while a monthly pass at the gym may cost you only €20 per month.
In the meantime, if you want to go to the movie theater, you can expect to pay, on average, €7. The same money can even buy you 2 tickets if you're a NOS client and go to their cinemas, that are spread across town.
Museum tickets usually cost around €15, while a ticket to watch a concert in Casa da Música (Music Hall) ranges from €6 to €35. There are also plenty of places you can visit in the city that are free, like Parque da Cidade – the largest urban park in the country –, Museu da Fotografia (Photography Museum), Jardins do Palácio de Cristal (Crystal Palace Gardens), Jardim Botânico (Botanical Garden) and more.
Average Cost of Living in Porto
On average, as a single person, you can expect the cost of living in Porto to be around €1,500 per month; considering you're living comfortably in a relatively new apartment in or near the city center, going out often, have a gym membership, and go out for dinner once per week.
Healthcare and Health Insurance
The healthcare system in Portugal (SNS – Serviço Nacional de Saúde) is a universal health care system that ensures all citizens' access to essential medical services and medicines.
Non-citizens living legally on Portuguese territory are also entitled to emergency and urgent treatment. However, if you're still waiting for your residence permit, you usually won't have access to the public healthcare system.
On the other hand, if you do have your residency, you can register at the nearest health center (centro de saúde) and get your health card (cartão de utente).
In any case, we highly recommend you to get private health insurance if you're living in Portugal. The public healthcare system has its limitations: you can't choose a doctor, and it sometimes takes too long to get an appointment or exam.
Compared to other countries like Germany, private health insurance is not as expensive. It might cost you something around €40 to €100, depending on your age and the coverage you select. Some companies like Continente (a big chain of Portuguese supermarkets) offer a health plan for free if you get their free Continente card.
Education
In Porto, you can find a good range of public and private schools and pre-schools, and cost, on average, €150 per month.
An important thing to know is that putting your kids into school is mandatory in Portugal starting at the age of 6 until they finish secondary education – around their 18s.
Regarding universities, the city has a good reputation, attracting several students from abroad whether through Erasmus exchange or by bringing young talents attracted by the opportunities brought by its renowned courses.
Safety
Porto is a very safe city, and you can walk around the streets at night without any problem. The crime rate in Portugal and Porto itself has been going down for years now (and living here, I have not felt unsafe once).
But that doesn't mean it's totally safe: don't leave your phone or backpack unattended, and try not to walk alone late at night, especially if you're a woman. We've heard about women getting harassed and some small thefts in less frequented streets.
Living in Porto FAQ
Did you find out everything you've been looking for about life in Porto? If you'd still like to know more, here are some frequently asked questions you might find interesting.
Is Porto a Good Place to Live?
On average, Porto is an excellent place to live. Even though almost half of the population is more than 50 years old and it's a bit hard to find like-minded people if you're working remotely like us, the city is pretty good.
Living in Porto is much more laid back than life in Lisbon. The city is smaller too, so you can walk basically anywhere. It's also pretty charming and offers a lot for its size. It still doesn't have so many good international restaurants and much exposure to great international exhibitions and concerts, but it seems to be growing and finding its space.
The city is safe, and there's plenty of options in schooling, universities, and jobs in the city.
The only downside is that it might feel like the city is densely populated because of its narrow streets and sidewalks and many tourists cramping into the city center and main roads. However, you can always find some quieter streets that make you feel like you're almost alone.
What's the Best Neighborhood to Live In Porto?
There are a few options, and it will depend on your budget and what you're looking for. Living in the Boavista area is one of the best if you're looking for a more modern part of the city and a less crowded area. The streets seem to be more clean and quiet than other areas around the city center.
If you're looking for cheaper rent, you can find good options at Bonfim, Cedofeita, and Miragaia. On the other hand, if you don't mind paying premium prices, you can always find a great apartment near the sea at Foz do Douro.
How Much Does an Apartment Cost?
If you're looking to buy a ready-to-live apartment in Porto, it might be hard for you. There are few good opportunities on the market because most of them were renovated by their owners into new commercial properties or living spaces – which are often being used as Alojamentos Locais (or Airbnbs).
That being said, there is a small choice in Porto when it comes to apartments, and prices vary depending on the area where they're located. You could expect to pay anywhere from €200,000 (about USD 276,750) for a small studio in the center of town or up to €500,000 (USD 676,250) for a living space near Boavista.
Of course, you could always find cheaper living spaces around Gaia or Maia, where the airport is located, but prices are starting to increase there too.